While there can always be more, there are many good TV shows airing currently. Listed alphabetically, this is Juncture's pick of top current television programs with LGBTQ representation to catch up on in the fall!
The Bold Type
Three friends (Kat, Sutton, and Jane) navigate their careers at Scarlet magazine. Their personal lives are often the backdrop to juggling responsibilities; and the aforementioned Kat (without giving away too many spoilers) pursues a relationship that has the potential to change her life. Recently renewed, The Bold Type will be returning to Freeform soon!
The Fosters
Married couple, Lena and Steph Foster, are parents to five children who comprise a multi-ethnic family. The series chronicles the day to day ins and outs of the teenagers' lives as they adjust to not only each other as they continue to grow as a family, but adversity in school and the real world. Steph and Lena provide the matriarchal backdrop as parents and partners who are as devoted to their children as they are each other.
How to Get Away with Murder
The show's main character, Annalise Keating, is a lawyer and a professor at a fictional university in Pennysylvania. Keating (Viola Davis), is openly bisexual with recent relationships including colleague and former classmate, Eve Rothlo, and police officer, Nate Lahey. The show additionally provides apt commentary on racism and sexism in modern America. HTGAWM has returned to ABC and airs every Thursday at 10pm eastern.
Jessica Jones
Part of Marvel's world, Jessica Jones is a show wherein the titular character is a P.I. with super human strength. She goes on to become a member of The Defenders, but the standalone series revolves around Jessica Jones pre-Defenders. A colleague of hers, Jeri Hogarth, is married to another woman, but the viewer is thrown head first into what may possibly be an affair. Each episode of Jessica Jones is currently streaming on Netflix!
Master of None
Creators Aziz Ansari and Alan Yang use the platform on Master of None to display diversity in talent. Denise, a character played by Lena D. Waithe, is an out lesbian, and a prominent member of the cast. A breath of fresh air, Denise isn't a stereotype, a palatable message in a bottle, or a token. She's a living breathing character with her own motivations, quirks, and thoughts on life. As a black, lesbian woman, Denise, is often touched by racism, homophobia, and sexism, respectively, and Lena's honest delivery in these poignant moments has earned her recognition and awards for her portrayal. The first two seasons are currently streaming on Netflix.
Orange is the New Black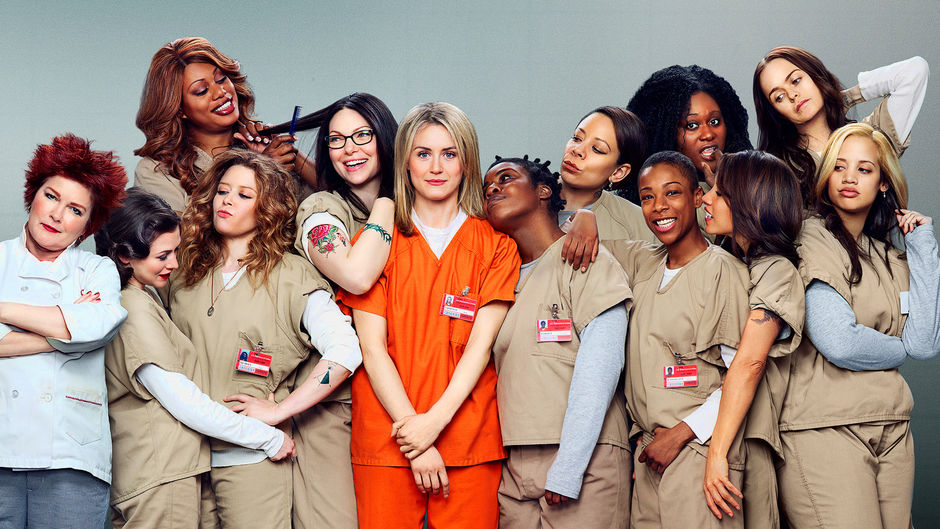 Based on the novel Orange is the New Black: My Year in a Women's Prison by Piper Kerman, the series follows Piper Chapman, new inmate to Litchfield Prison due to drug charges that the statute had nearly run out on. The audience learns of Piper's past relationship with ex-girlfriend, Alex Vause, who joins her in prison. Piper and Alex are given ample time to rekindle their relationship. Beyond the pair, OITNB has a host of women who are diverse in race, ethnicity, religion, ability. Laverne Cox portrays trans character, Sophia Burset. The show masters the art of good representation by simply telling the stories of a diverse group of women.
Orphan Black
A wonderful commentary on feminism, a woman's right to choose, and what it means to be human, Orphan Black not only tells a captivating story, it brought Tatiyana Maslany to everyone's television screen. She played a variety of identical clone characters with impressive range and depth, one of whom is lesbian, Cosima Niehaus. Fans may also note that Maslany portrayed more than one LGBTQ characters in the series.
Shameless
A family living at near poverty levels due to a mentally ill mother and an alcoholic father is the backdrop of Shameless. The characters each share the descriptive adjective of the title as a trait at some point or another as they each try to make it in the world by any means necessary. Ian, an openly gay character in the family, shares a tumultuous relationship with a neighborhood character who is decidedly more closeted.
Transparent
A show about a family who learns that the father, Mort, identifies as a woman, and will undergo necessary procedures to physically feel like a woman, Transparent provides a necessary voice to the often silenced trans community. The icing on the cake, of course, is that Transparent isn't just representation, it's good representation. Jeffrey Tambor (who literally teaches acting) hits every emotional and comedic beat with the rhythm of a well-trained dancer, and the writing is crisp, relevant, and heart-felt. It began as a web television series, but you can now watch the first four seasons on Amazon.
Wynonna Earp
Wynonna Earp is the tale of a fictional descendant of Wyatt Earp. The titular character, Wynonna, fights revenants via an inherited curse (that comes with its own bad ass gun!) from Wyatt himself. Her sister, Waverly Earp, is thrust on a journey of self-discovery at the beginning of the series, and explores her sexuality. What is refreshing about Wynonna Earp is that Waverly is willing to explore and discover her sexuality. For the sake of angst, writers often create conflict with characters exploring their sexuality, but Waverly represents a woman who is curious, stripped of aptly named "gay-panic," and willing if not eager to pursue her own truth.
* Honorable Mention: Will & Grace has just returned to NBC this fall! We'll definitely be tuning in.
What are some of your favorite TV shows with LGBTQ representation? Let us know!
The Juncture Mag Staff